Magnetic Therapy Success Stories
Below are just a few of the comments that we receive from our customers over the past few months.
WATER WAND
"I am finding the magnetic water wand has reduced my blood pressure significantly and I am very pleased I bought it."

E. Wood, York

KNEE STRAP
"With in 24 hours of purchasing one of your magnetic knee straps the pain was much easier. I am sleeping throughout the night and able to walk much further."

Anon

SHOULDER SUPPORT
"After suffering a painful shoulder for several weeks I contacted Dee from World of Magnets, she recommended that I wear a magnetic shoulder strap. After 4 days of wearing it 24 hours a day I was totally pain free."

D. Dodds


KNEE STRAP
"Please send me one magnetic knee strap. Finding benefits from the one I have already."

H. Stamp, Derbyshire


BACK BELT
"About a month ago I purchased a magnetic back belt from you which I have been wearing constantly and I am very pleased to say how much it has helped me. I have always been intrigued by the power of magnets and I believe that Charles Dickens always insisted in sleeping in a north/south position to allow existing magnetic fields to work. As a tennis player of many years I will have no hesitation in recommending your magnetic straps to anyone with problems."

E. Kettlewell, Derbyshire


SHOE INSOLES
"The best thing I have purchased is a pair of magnetic insoles- wonderful! I am 91 years old and my legs are now telling me so."

M. Evans, Chesterfield


WATER WAND
"I went to see the Mind, Body and Spirit show at Grimsby. I bought a water wand, I have osteoarthritis and also I'm diabetic. I have found that my sugar level has gone down and also the pain in my spine. I also decided to become a distributor because I feel so delighted with the product. Now I talk to people about it and they are coming to me. I am so happy and well and I have a new outlook on life."

B. Baily, East Lincolnshire


STAINLESS STEEL BRACELET
"The stainless steel bracelet that I got from you before Christmas has helped a lot. I wore one like it for about 5 years, but the magnets started falling out. After losing most of them, I went about 4 months without anything, hands started getting sore and swelling a bit, but since getting a magnetic bracelet from you with in a few days noticed a big improvement."

K. Morris

BRACELET AND WATER WAND
"I have recently taken delivery of my order of a magnetic bracelet and a wand. Both appear to be working their magic!"

J. Harper


MATTRESS COVER
"My Dad had a mattress cover from you, it had been on the bed for 2 days and the pain in his back has gone and he is walking a lot more!!!!Thanks."

S. Lawrence


BACK BELT
"I recently had a back problem and we decided to send for a belt of magnets to see if it would help. I was a little bit sceptical at first but by using it regularly I was amazed that it actually started to get better!"

A. Brook, Huddersfield


MAGNETIC MATTRESS COVER
"I would just like to say how happy I am with the magnetic mattress cover I purchased from you 9 months ago. Since then I have been free from much of the pain I was experiencing when I came to you. I have recently seen the specialist at the hospital and found not only to have rheumatoid arthritis in my spine but also osteoarthritis together with the spondylosis in my neck. As I explained at my consultation with you, I work from 1 am in the mornings on my milk round and with the conditions I suffered for almost 12 years, life had become very hard. I even thought I would have to give up my business. I, as you know, was in so much pain when I came to you and very frustrated by the side effects the drugs were creating with my stomach, together with the lack of sleep I was experiencing I really was as you would say at the end of my tether.
Thankfully with the mattress cover I feel the situation has been helped and I am now getting a relaxed and pain free sleep which was proved a few weeks ago when I was house sitting at my mother's. I suddenly found I was in agony, the pins and needles in my leg returned and on one of the mornings I had great difficulty getting out of bed - not the thing a 43 year old woman finds easy to cope with! After 3 or 4 days I suddenly realised the problem, I was not sleeping on my mattress cover; obviously on returning home the problems that had returned started getting better within 2 days or so. I have several customers suffering similar complaints and have highly recommended this cover to them which I feel has made a vast improvement to my life and even saved me from giving up my business, it is wonderful and has been washed over and over again and still is just like new. Thank you - at least 99% of the time I can honestly say that I manage without the medication and am still much of the time pain free or at least the pain is manageable!"

J. Hodgson, Derbyshire



NECKLACE, RING AND PILLOW
"We think the magnets are fantastic. My stiff and painful neck and shoulder is virtually better thanks to my magnetic necklace, my husband's distorted and arthritic finger is nearly straight thanks to his ring and the cat and I are enjoying a good nights sleep with the pillow insert. We have been passing your firm's website address to everyone we know and friends have been delighted with their purchases too."

L. Carnell, North Yorkshire


BACK BELT
"I purchased a magnetic back belt from you on 15th December and have worn it daily ever since with amazing results. It has made a tremendous difference not only to the level of pain I was experiencing but to my general welfare as I am now far less stressed and have a much more positive outlook on the future - which at one time I was afraid to even consider what it might hold for me. I am highly delighted with the product and extol the virtue of magnet therapy to whoever will listen!"

J. Melling


SHOE INSOLES
"I would just like to say how pleased I am with your products especially the magnetic therapy shoe insoles. I have suffered with restless legs for years but now thanks to the shoe insoles which I wear in my shoes all the time it has completely disappeared and now I can have a night sleep without the problem."

E. Winstanley, Cheshire


STAINLESS STEEL BRACELETS
"Just a note to say how impressed I am with the quality and fit of the stainless steel magnetic bracelets. I was also impressed by the speed of service."

A. Beken, Essex


SHOE INSOLES
"The most striking effect that magnets have had in my life can be seen in the greatly improved movement of my feet. I have been wearing magnetic insoles for quite some time now and have watched my feet come alive again over the past months. They had become so wooden it was difficult to walk on anything but a really flat surface like a supermarket floor. Even slightly lumpy ground hurt my feet. My balance was becoming affected too. I was already wearing a magnetic bracelet and drinking magnetised water when I decided to try the insoles. They are now very much part of my life. Mt reflexologist will confirm just what a change they have made to my feet. My toes move again and despite my bunion too. Foot colour has improved due to better circulation and I no longer notice the slight puffyness of my ankles, that seems to be a thing of the past. I move a lot better generally on my more flexible feet. Thank you for helping me so much."

N. French, Oxon


MAGNETIC BRACELET AND BACK BELT
"I received my order the very next day, the magnetic bracelet was for my 89 year old mother, she had a painful left hand and blue fingers due to bad circulation. Now after wearing it for two weeks most of the pain has gone and her fingers are back to normal. The back belt was for myself. I have had back pain for over 20 years, when not severe I had constant back ache, after wearing the magnetic back belt for some three weeks now my pain has been reduced and the constant ache gone away, also my sleeping has got a lot better."

D. Groom


WATER WAND
"I have been using your magnetic water wand since April 2004 and wouldn't be without it."

N. Arrowsmith, Lincolnshire
magnetic therapy real life experiences >>
Magnetic therapy pain relief testimonials
Natural pain relief success stories
Natural pain treatments testimonials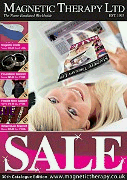 New to Magnetic Therapy? Claim your FREE information pack

Like This Site
Tell a Friend About it