Omni Massager: How to use?
Neck & Shoulders
For maximum reach, place the massage roller on the tip of your fingers, reach over the opposite shoulder and pull down into the muscle. Use the rolling ball to roll away stress and tension.
---
Lower Back
For the lower back, grip the roller around the groove with the ball facing up. Position the ball in the desired location, add pressure with the other hand and massage the muscle using small circular motions.
---
Feel Better Fast!
Begin by apply pressure then roll the ball in circular motions all around the desired area, adding pressure as needed. Use two hands for even more pressure. With just a little practice you will be able to identify the exact spot that needs massaging and you will feel the relief as your OMNI Massage Roller smoothes, soothes, and loosens the muscle tissue, bringing improved circulation, natural pain relief and healing to the area.


---
Cleans Easily!
For light clean up simply spray with a mild household cleaner and wipe dry. For heavier build ups of massage oils and creams, soak inn warm soapy water and rinse clean. Allow to drain and towel dry.
Terms and Conditions | Postage and Packing | FAQ |

magnetic bracelet for pain relief, magnetic bracelet for arthritis, magnetic jewelry, copper magnetic bracelet, stainless steel magnetic bracelet, hematite magnetic bracelet.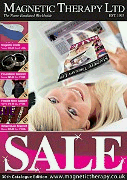 Magnetic Products:
Specialist Magnetic Products

Magnetic Straps

Magnetic Supports

Magnetic Hematite Bracelets

Stainless Steel Magnetic Bracelets

Expandable Hematite Magnetic Bracelets

Copper Magnetic Bangles / Bracelets

Magnetic Water Wand

Magnetic Shoe Insoles

Magnetic Mattress Pad

Magnetic Pillow Pad

Stainless Steel Magnetic Necklaces

Magnetic Rings and Earrings

Hematite Magnetic Necklaces

Magnetic Portable Travel Pad

Magnetic Bed Pad

Magnetic Collars
(dogs & cats)

Equine Magnetic Products

Massage Therapy Products

Magnetic Eye Mask

Conversion Chart
1 milliTesla (mT) = 10 Gauss