MAGNETIC QUARTZ WATCHES
Online Store >Hematite Magnetic Watches
Amethyst has come to be known as a power crystal with prolific healing powers which can be characterized as purifying, pacifying and transitional. The healing powers of Amethyst date back as far as the ancient Greeks who believed that Amethyst protected from the intoxicating effects of alcohol. The word "amethyst" is of Geek origin and is translated as "amethystus" meaning not drunken, or intoxicated ("methystos" from "methyein" or intoxicated, "methy" wine).
Magnopain Sodalite Hematite watch



Normal Price £28.00

Special offer - Save 35%
Buy now for only £18.20

6 x 1200 gauss magnets
***Discontinued ***
Mental Healing
Amethyst as a healing stone contains sobering and calming qualities which allow this stone to be commonly associated with peace. Amethyst is known to calm and protect the mind. It soothes those who have engaged in constant rigorous mental activity. It has been deemed "nature's tranquilizer" by many healers because of it's effectiveness in relaxing not only the mind but also the nervous system. Those who wear amethyst jewellery and who have been recommended to wear this stone for healing purposes have done so because of its tranquil qualities and its ability reduce negativity and alleviate anxiety.
Physical Healing
Along with the many mental benefits of amethyst healing, there are also many physical afflictions for which the healing powers of amethyst are a remedy. It has been known to treat various types of blood disease and balancing blood sugar. Amethyst as a healing stone or crystal is used to treat and heal problems involving the central nervous system. Amethyst is a treatment for both convulsions and neuralgia.

Terms and Conditions | Postage and Packing | FAQ |

magnetic bracelet for pain relief, magnetic bracelet for arthritis, magnetic jewelry, copper magnetic bracelet, stainless steel magnetic bracelet, hematite magnetic bracelet.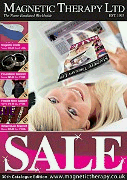 Magnetic Products:
Specialist Magnetic Products

Magnetic Straps

Magnetic Supports

Magnetic Hematite Bracelets

Stainless Steel Magnetic Bracelets

Expandable Hematite Magnetic Bracelets

Copper Magnetic Bangles / Bracelets

Magnetic Water Wand

Magnetic Shoe Insoles

Magnetic Mattress Pad

Magnetic Pillow Pad

Stainless Steel Magnetic Necklaces

Magnetic Rings and Earrings

Hematite Magnetic Necklaces

Magnetic Portable Travel Pad

Magnetic Bed Pad

Magnetic Collars
(dogs & cats)

Equine Magnetic Products

Massage Therapy Products

Magnetic Eye Mask

Conversion Chart
1 milliTesla (mT) = 10 Gauss