How to get pain relief quickly with magnetic therapy treatments?
In the middle ages, physicians used bulky permanent magnets sewn into their patientsí clothes to achieve therapeutic healing and well being. Due to the discomfort, these practices although very effective did not last very long. Hence magnet therapy fell into disuse. Today magnetic therapy has become much practical and it is fast again becoming a preferred method of healing and pain relief amongst complimentary and alternative medical practitioners.

Thanks to the development of new alloys, small metal plates of relatively high magnetic power are being manufactured. One such alloy is Neodymium which is also called rare earth magnet. It is the preferred type of magnet used for healing purposes and can achieve very high magnetic strength. A 5mm in diameter neodymium rare earth magnet can have a surface gauss of up to 3000. The only drawback of neo magnets is that they do tend to rust with time. Therefore, to increase their lifespan when used in magnetic jewellery, neo magnets are usually epoxy coated.

If you want to gain pain relief quickly and permanently when using static magnetic therapy treatments, observe the following rules.

Firstly, and by far the most important rule of all, is to place the magnets directly over the point of pain. If that is not possible due to the pain being in an awkward area for example on the knee cap, then place the magnetic product as close as possible to the point of pain. In this situation it will be using a magnetic knee strap either just above or below the knee cap.

Secondly, wear your magnetic product at all times if possible. This is nearly as crucial as the first point and is the main reason why magnetic therapy treatments fail to relieve pain. One should aim to wear their healing magnets 24 hours a day, 7 days a week especially in the first four to five weeks of the treatment. That way, the magnets will be permanently working towards relieving inflammation and reducing pain.

Thirdly, use the highest strength healing magnets that you can get. These magnets will produce the deepest penetrating magnetic field which will get right down into the muscles and tissues. Such magnets are almost always required when treating long term chronic pain.

Fourth, use as many therapeutic magnets as possible together. This will produce a wider magnetic field and hence will cover a larger painful or injured area on the body. For example, if you are buying a stainless steel magnetic bracelet, try to get one that has a magnet in each link and a bracelet that has the smallest link size. That way you are getting the most magnets for your money. Remember you cannot overdose on magnets irrespective of how many you use.

And remember; always make sure you ask what the strength of each healing magnet is in the magnetic product. You need magnetic products that contain magnets that are at least 800 gauss each or you might as well not bother!
More Magnetic Therapy Articles: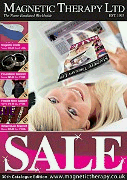 New to Magnetic Therapy? Claim your FREE information pack

Like This Site
Tell a Friend About it