Magnetic Therapy Can Improve Poor Circulation to Your Hands and Feet, Here's Why
Do you suffer with cold hands or cold feet even in the middle of summer? If yes, then you might be a victim of poor circulation without even realising it. Find out how to improve your circulation the natural way using magnetic therapy
Do you suffer with cold hands or cold feet even in the middle of summer? If yes, then you might be a victim of poor circulation without even realising it. But don't worry, help is here. Read on to find out how to improve your circulation the natural way using magnetic therapy.

Poor circulation may be an indication of a heart disorder. High blood pressure, arteriosclerosis, varicose veins, Raynaud's Disease, and phlebitis are all connected with the circulatory system and having these conditions can lead to poor circulation within the body. So do not ignore the possible warnings and existence of these conditions specially if you have had them for a long period of time.

The symptoms of poor circulation are:

- Cold hands and feet.

- White fingers.

- Dizziness when standing quickly.

- Numbness

- Varicose veins.

- Migraine headaches.

- Tinnitus and hearing loss.

Causes of poor circulation

The main causes of having a poor circulation could be cholesterol, plaque on artery walls or lack of exercise. It may also be hereditary. Your susceptibility to these types of problems can be caused by an imbalance in your system.

Magnetic therapy can effectively and quickly help resolve the effects of poor circulation. I shall now introduce a few magnetic therapy devices that will help alleviate cold feet and hands.

Magnetic therapy treatment for poor circulation:

Poor circulation predominantly affects the extremities (peripheries) of the body such as the fingers, hands, feet and ankles. Poor circulation can manifest by having cold feet and hands or lack of sensation, plus swollen feet, ankles, hands and fingers. The body's circulation can be improved with therapeutic magnets. The application of magnets to the wrist, fingers and feet will improve the local circulation of these areas. Furthermore, to promote an increase in the body's whole circulatory system, magnetised water should be consumed.

Common magnetic therapy devices for alleviating poor circulation are:

1) Magnopain magnetic shoe insoles to increase the circulation to the feet and lower leg. These are very easy to use as you simply place them in your shoes and wear them all day long. The most beneficial way to use them is to take them from shoe to shoe so your feet have contact with them throughout the day. There should be no need to wear them during the night but some people with 'restless legs' find their symptoms much reduced by placing them in bed socks. Magnetic shoe insoles are extremely strong and can have as many as 50 magnets per insole. This magnetic strength allows the magnetic field to penetrate all the way up the leg and as far as the knee.

2) The use of a high strength (2,000-3,000 Gauss/200-300 milli Tesla) Magnopain magnetic bracelet to combat poor circulation in the hands. You would need to wear a magnetic bracelet on each wrist for maximum benefit. The magnetic field will increase circulation to the wrist, hand and fingers. It is advocated that the bracelet be worn at all times 24 hours a day 7 days a week to obtain the best results. You can also wear magnetic rings on your fingers if you suffer with cold fingers instead of cold hands.

3) If you drink at least 4 glasses of magnetised water a day you should notice an improvement to the circulation though out your whole body. If the magnetic shoe insoles, magnetic rings and/or magnetic bracelets are used in-conjunction with drinking magnetised water the effects will be increased by 10 times. You can magnetised water by placing a Magnopain magnetic water wand in a glass of water for 10 to 15 minutes.
More Magnetic Therapy Articles: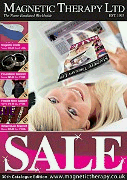 Magnetic Products:
Specialist Magnetic Products

Magnetic Straps

Magnetic Supports

Magnetic Hematite Bracelets

Stainless Steel Magnetic Bracelets

Expandable Hematite Magnetic Bracelets

Copper Magnetic Bangles / Bracelets

Magnetic Water Wand

Magnetic Shoe Insoles

Magnetic Mattress Pad

Magnetic Pillow Pad

Stainless Steel Magnetic Necklaces

Magnetic Rings and Earrings

Hematite Magnetic Necklaces

Magnetic Portable Travel Pad

Magnetic Bed Pad

Magnetic Collars
(dogs & cats)

Equine Magnetic Products

Massage Therapy Products

Magnetic Eye Mask

Conversion Chart
1 milliTesla (mT) = 10 Gauss