Even if you donít have anything wrong with you, if you have family members that do not have ailments but just want an overall tonic, an uplift, they want to reduce stress, they want to have less headaches and more energy, magnetised water is great for everybody and everybody can use it and the great thing is the magnets will last for ten years so you can use as often as you want for ten years. The other thing to mention is that magnets need to be worn 24 hours a day seven days a week this does not mean that you have to wear them 24/ 7 every day, all day for the rest of your life this is another common misconception about magnets most people think you have to wear magnets and leave them on permanently, you donít, although you should wear them 24 hours a day, seven days a week for the first four to six weeks, that is what we recommend.
The reason for that is you need to let the magnetism get on board, you need to absorb the magnetic field and you need to let the magnets do their work. Now you may find that your pain is relieved within a few days or within a couple of weeks if that is the case, great, brilliant but leave your magnets on for another couple of weeks afterwards just to get you absolutely topped up with magnetism. After that you can take them off, you can wash them because they are machine washable, put them away in drawer, keep them safe but when the pain starts to 'niggle' back in, as soon as you feel that twinge, then you should pop them back on again.
Obviously if you are drinking the water it is going to be a lot quicker for the results to work, you wonít have to wait days or even a couple of weeks they will work pretty quickly. Some people choose to wear their magnets all the time, a lot of people wear knee straps or a back belt all the time simply because they donít want that pain to start niggling back in and that is fine as well, it is very, very personal and individual, everybodyís experience of wearing magnets and of using magnets is very, very personal and individual, one person may keep their magnets on all the time and another person will take them off at regular intervals, that is o.k. everybody can use magnets in a different way, as long as the way you use them is correct for you, which is another reason why it is so important to get trained advice before you start using magnets because we need to know which is the best way for you to wear your magnets and which is the best type of magnet to use.
Safety Precautions
Magnets are totally natural and there are no chemicals or drugs involved They are perfectly safe to use with all conventional medicines and treatments and by all conventional medicines, I do mean all, a lot of people have worries that they wonít be able to use them because they are on high blood pressure medication, because they are on warfarin or aspirin for thinning the blood, it is absolutely safe to use magnets with all tablets and all conventional treatments. You do not have to stop using what the doctor has prescribed you before using magnets. Having said that, you should always carry on taking your medication whilst using magnets, if you find that you have got good results and your pain is going, then you can start to reduce the pain killing medication if you want to if it is Paracetamol, or if it is anti-inflammatory such as Ibuprofen you can start to reduce them, if it is medication that you need to be weaned off, you should go to your G.P or Practice Nurse and ask them to reduce the doses for you.

Never reduce diabetic medication or high blood pressure medication yourself because this is something very, very dangerous and, even though you might be feeling very much better because of the magnets, you should always go to your GP or your Practice Nurse to have your medication reduced.

<< Previous Page-----Next Page >>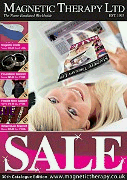 New to Magnetic Therapy? Claim your FREE information pack

Like This Site
Tell a Friend About it