Fact 6: Magnetic bracelets do not just treat Arthritis, they treat 15 different conditions.
You may have thought (a lot of people do) that magnetic bracelets are only for people with arthritis. This simply isn't the case; here is a list of the 15 conditions which magnetic bracelets can help:

# Rheumatoid arthritis in the fingers, wrist and hand

# Osteoarthritis in the fingers, wrist and hand

# Fibromyalgia, were the pain is in the fingers, wrist and hand

# Polymyalgia Rheumatica, were the pain is in the fingers, wrist and hand

# Osteoporosis, were the pain is in the fingers, wrist and hand

# Repetitive strain injury in the fingers, wrist and hand

# Carpal tunnel syndrome

# Tendonitis of the wrist

# High blood pressure

# Stress

# Tennis elbow, super strength bracelets only

# Reynaud's disease, in the fingers, wrist and hand

# Gout in the fingers, wrist and hand

# Poor circulation in the fingers, wrist and hand

# Diabetes, where peripheral neuropathy is in the fingers, wrist and hand
Fact 7: Your magnetic bracelet MUST fit correctly or you will loose 75% of its power.
If you have or you are about to buy a magnetic bracelet and it does not fit your wrist size correctly you may as well not even bother wearing it! This may sound harsh but it's the plain and simple truth.

Your magnetic bracelet should fit snugly but not to tight around your wrist. If you have more than ¾ inch slack between your magnetic bracelet and your skin the 'air gap' (the distance between the magnet and the skin that the magnetic flux must travel across) will be too great and the magnetic field will not penetrate through your skin ad into your body correctly.

On the other hand if your magnetic bracelet is too tight and has no 'slack' to allow for a small amount movement around the wrist it can cause problems. A bracelet that is too tight could potentially cause your hand or arm to swell as your circulation could become impeded.
How to ensure your magnetic bracelet fits perfectly
The ideal length of a magnetic bracelet should be approximately ½ inch longer than your tight wrist circumference. To find this measurement follow this simple process:
1. Take a flexible tape measure (not a builders tape) and measure the wrist in between the area from the hand and the small protruding wrist bone.

2. Pull the tape tight so that is fits around the wrist like a wrist watch.

3. Note down the tight measurement and then add ½ inch onto the measurement.

4. This measurement will give you the correct length of bracelet for your wrist.
As a rule of thumb, you should be able to easily slip a finger under your magnetic bracelet when fastened around your wrist.
One more thing to be aware of
When you choose a design of magnetic bracelet always check the length of the individual links in the bracelet. Different magnetic bracelet designs will have different length links and not all bracelets can be altered into exact ½ inch increments.

You need to choose a bracelet size that is the closest to your measurement. If the supplier does not offer a selection of sizes for you to choose form or does not have any magnetic bracelets that are very near or exactly your size then do not purchase a bracelet that is either to big or too small for your wrist size, it will be a complete and utter waste of money.
In conclusion:
Please do not buy a magnetic bracelet just because it is pretty and looks like a nice fashion accessory. If you want fashion jewellery there are plenty of fashion jewellery sites out on the web.

Magnetic therapy bracelets provide you with a host of health benefits providing you use them correctly, ensure you are treating the right condition with them and get the correct strength and size for your needs.

You must remember this at all costs, if you are unsure about a magnetic therapy suppliers products then you are best to walk away rather than buy something that you do not know the strength of or are unsure if the bracelet is suitable.

And remember, if you do not know what is the best type of magnetic therapy for your particular ailment, then speak to a trained and qualified professional magnetic therapist before using any type of magnetic product. You can do so now. Just click on the livehelp logo at the top of this page to speak to a therapist now with this free online consultation facility.


This report has been written by Debbie Shimadry, a qualified pain nurse specialist and magnetic therapist. Debbie has also created a range of magnetic therapy products – Magnopain® – that can be purchased online at http://www.worldofmagnets.co.uk. She has also appeared on several BBC radio shows as an expert guest in magnetic therapy. Click here to listen to one of those shows.


World of Magnets ltd
45 Birches Lane,
South Wingfield
Derbyshire
DE55 7LY
United Kingdom
Web: http://www.worldofmagnets.co.uk
Email: info@worldofmagnets.co.uk
Discussion Board: http://www.worldofmagnets.co.uk/discuss
Online consultation: http://www.worldofmagnets.co.uk/livehelp.htm

© All rights reserved. Reproduction of this document in any form is illegal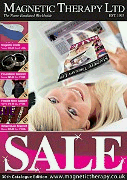 New to Magnetic Therapy? Claim your FREE information pack

Like This Site
Tell a Friend About it