What causes bunions?
"No one single cause has been proven," explains Trevor. "There are a number of causes, and though shoes can exacerbate the problem, bunions do occur in societies that don't wear them."

Michael Ratcliffe, a registered podiatrist who specialises in podiatric clinical biomechanics, explains that we walk on the same type of ground all the time, whereas the human foot was actually designed to adapt to varying terrains. In a sense, a bunion is a type of repetitive strain injury. And like repetitive strain injury, some people are more prone to it than others. One theory - though it remains unproven - is that bunions are caused by one or both of the following:

1) Because the foot wasn't designed to constantly walk on a level surface, the ball of the big toe is slightly lower than the ball of the rest of your foot. When your foot meets the ground, the ball of the big toe is pushed up, and the big toe joint can't bend as well as it was designed to. In order for the big toe joint to bend fully as you walk, your foot rolls slightly over to the side (this is also why people with hallux valgus often get hard skin).

2) Also, if your midtarsal joint tends to move from side to side more than it does up and down, the arch in your foot collapses as your foot rolls in. This also makes you more prone to developing bunions.

Such problems can be exacerbated by tight footwear. "Slip-on shoes can make matters worse," says Trevor. "Because they have to be tighter to stay on your feet, you automatically have less room for your toes. And with nothing to hold your foot in place, your toes often slide to the end where they're exposed to lots of pressure. Likewise, high heels throw more weight onto the ball of the foot, putting your toes under further pressure." If you haven't got a bunion by adulthood and you later develop one, there could be some underlying arthritis.
Gout
Arthritis is a disease of the joints which causes them to become inflamed and stiffen. There are three types of arthritis - Rheumatoid, Osteo- arthritis and Gout.

Gout is the result of an imbalance of uric acid in the body, and affects more men than women.
SYMPTOMS
The main symptom is waking up in the middle of the night with an acute throbbing pain in the big toe, which is swollen. Usually only one of the big toes is affected. The pain lasts for around three or four hours and will then subside and usually not return for a few months. It can be controlled by drugs, which your GP will be able to prescribe. The application of ice or cooling lotions will help during an acute phase.
CHIROPODY CARE
All three forms of arthritis can benefit from chiropody care. Registered chiropodists (also known as podiatrists) work in the NHS and in private practice. They will be able to adapt your existing footwear with orthoses or other appliances, which fit easily into your shoes and help redistribute pressure away from the affected parts.

<< Previous Page-----Next Page >>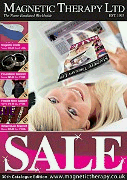 New to Magnetic Therapy? Claim your FREE information pack

Like This Site
Tell a Friend About it