WHAT TO DO?
You can control a small amount of hard skin by gently rubbing with a pumice stone, or chiropody sponge occasionally when you are in the bath. Use a moisturising cream daily. If this does not appear to be working, seek advice from a registered chiropodist (also known as podiatrist) or pharmacist.

If the callus is painful and feels as if you are "walking on stones", consult a registered chiropodist/podiatrist who will be able to advise you why this has occurred and, where possible, how to prevent it happening again. Your chiropodist/podiatrist can also remove hard skin, relieve pain, and redistribute pressure with soft padding, strapping, or corrective appliances which fit easily into your shoes. The skin should then return to its normal state.

The elderly can benefit from padding to the ball of the foot, to compensate for any loss of natural padding. Emollient creams delay callus building up, and help improve the skin's natural elasticity. Your chiropodist/ podiatrist will be able to advise you on the most appropriate skin preparations for your needs.
Bunions
What are bunions?
What most people call a bunion is actually known as "Hallux valgus". Hallux valgus refers to the condition in which the big toe is angled excessively towards the second toe – and a bunion is a symptom of the deformity.

"In a normal foot, the big toe and the long bone that leads up to it (the first metatarsal) are in a straight line," explains podiatric surgeon Trevor Prior. "However, Hallux valgus occurs when the long foot bone veers towards your other foot and your big toes drifts towards your second toe."

A bunion actually refers to the bony prominence on the side of the big toe. This can also form a large sac of fluid, known as a bursa, which can then become inflamed and sore.
Is it serious?
"Some people have massive bunions that aren't that painful but cause difficulties with shoes, while others have relatively small bunions that are very painful," says Trevor. However, just because you have Hallux valgus doesn't mean you'll get the bursa.

Pressure from the big toe joint can lead to a deformity in the joint of the second toe, pushing it toward the third toe and so on. Likewise, if the second toe and big toe cross over, it can be difficult to walk..

"Once the big toe leans toward the second toe, the tendons no longer pull the toe in a straight line, so the problem tends to get progressively worse," explains Trevor.
Who gets them?
"Women tend to get bunions more than men," says Trevor. "This could be due to the more restrictive footwear they wear, (such as high heels or narrow toe boxes which force the big toe towards the little toes) but women also tend to have looser ligaments, making them slightly more prone." You're also more likely to get bunions if your parents or grandparents have them.

<< Previous Page-----Next Page >>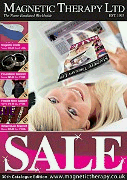 New to Magnetic Therapy? Claim your FREE information pack

Like This Site
Tell a Friend About it