If you are on your feet a lot, you should wear well-fitting, comfortable walking shoes, with thick but flexible soles. Shoes should have a lace-up fastening that holds the heel in place and prevents the toes from sliding into the toe box of the shoe. There should be enough room at the top to allow the toes to move freely. Leather 'uppers' and man-made soles are a good combination. The shoe lining should be wrinkle-free and without rough or obtrusive stitching. If you work in wet conditions, you must wear waterproof footwear and socks which are thick enough to keep your feet warm, but not too tight to affect your circulation. Never wear loose fitting shoes that may slip on highly-polished surfaces.
Help at hand
For minor accidents at work, apply first aid straight away. Cuts should be cleaned and covered with a suitable dressing, and blisters should be left unopened and covered. Rest any sprains as much as possible. For advice about treating these or more serious injuries, see a registered chiropodist/podiatrist. He or she can also treat any problems that may have developed.
Combating common ailments.
The foot is roughly divided into three sections: the hindfoot or heel, the midfoot and the forefoot & toes.

The function of the toes, especially the big toe, is to help us balance, and to propel us forward during walking or running. The 14 bones of the toes are among the smallest in the body, and, not surprisingly, things can and often do go wrong. Some problems begin in childhood and may go unnoticed. Others begin later on in life, perhaps as the result of injury or the added pressure of incorrect footwear.
Heel Pain.
When walking, your heels repeatedly hit the ground with considerable force. They have to be able to absorb the impact and provide a firm support for the weight of the body.

When pain develops in the heel, it can be very disabling, making every step a problem, affecting your posture.
Heel pain - the facts
There are various types of heel pain. Some of the most common are: heel spurs (plantar faciitis); heel bursitis and heel bumps.
SYMPTOMS
Heel Spurs:
the pain is usually worst on standing, particularly first thing in the morning when you get up. It is relatively common, though usually occurring in the over forty's age group. There are no visible features on the heel but a deep localised painful spot can be found in or around the middle of the sole of the heel. Although it is often associated with a spur of bone sticking out of the heel bone (heel spur syndrome), approximately ten per cent of the population have heel spurs without any pain.

<< Previous Page-----Next Page >>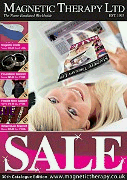 New to Magnetic Therapy? Claim your FREE information pack

Like This Site
Tell a Friend About it