Follow these tips for good foot health.
Wash your feet every day in warm soapy water (don't soak them, as this might destroy the natural oils) and dry thoroughly, especially between the toes.

• If your skin is dry, apply moisturising cream all over the foot, except for between the toes.

• Lightly apply a foot powder.

• Remove hard skin gently with a pumice stone, but not if it is over a bony area or joint. If this is the case, or if the hard skin is painful, consult a registered chiropodist/podiatrist.

• Trim your toe nails regularly, using proper nail clippers. Cut straight across, not too short, and not down at the corners as this can lead to in-growing nails.

• Keep feet warm, and exercise to improve circulation.

• Always wear the right shoe for the job - take a look at our guide to buying shoes.

• Seek prompt treatment for burns, cuts and breaks in the skin, and for any usual changes in colour or temperature. This is particularly important if you have diabetes.
Working Feet.
At Work
The working foot has a lot of demands made on it, and in a normal working day can easily travel fifteen miles. Just standing still can also put a lot of strain on our feet, so we need to take proper care of them, to help prevent injury and keep them working.

There are a number of potential hazards at work which could lead to injury, such as oily or slippery floors, or machines which can crush or burn. Cold working areas like frozen food stores, or wet conditions, can bring additional problems like chilblains or athlete's foot.
Working comfortably and safely
Just as a car needs attention and regular servicing, feet function efficiently only if they are looked after. Try following the SCP 'Guide to Good Foot Health' every day to help prevent problems occurring.
If the Shoe fits.
Wearing the right shoe for the job can help prevent accidents and protect your feet and toes from injury.

If you work in heavy industry and have been given an official pair of safety shoes, wear them (they should bear the 'Kitemark' sign which means they meet British standards). Always wear hard-top shoes when operating grass-cutting equipment.

<< Previous Page-----Next Page >>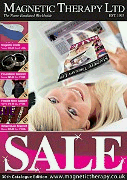 New to Magnetic Therapy? Claim your FREE information pack

Like This Site
Tell a Friend About it