Arch the back, at the same time, look down at the floor. Then lower the stomach towards the floor, hollowing the back and at the same time look up to the ceiling. (if you are pregnant you should not do the second part of this exercise hollowing your back, instead keep your back straight)
Repeat 10 times.
---
Slowly walk the hands around to the right, back to the starting position then around to the left. Repeat 5-10 times.




---
Raise one hand off the floor, reach underneath your body as far as you can. On the return, swing the arm out to the side as far as you can then return to the starting position. Follow the moving hand with the eyes. Repeat with the other arm.
Repeat 5 - 10 times.


---
Draw alternate knees to the opposite elbow.
Repeat 10 times



---
Stretch one arm forward in front, at the same time stretching the opposite leg out behind.
Repeat 10 times


---
Swing the seat from side to side in a controlled manner. Repeat 10 times.



---
Sit back on your haunches. Lower the body forward and down so that the nose goes as close to the ground as comfortably possible. Move forward, running your nose along the ground as far as you can go before coming upright and repeating.


---

Please note:

This page can only offer general advice, since it is not possible to recommend specific exercises for your pain without having seen you. You need to decide which exercises are most appropriate for your needs. We recommend you check with your GP or chartered physiotherapist before taking up a new programme.

<< Previous Page-----Next Page >>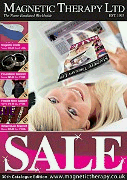 New to Magnetic Therapy? Claim your FREE information pack

Like This Site
Tell a Friend About it