Treating low back pain

Currently recommended treatment(15) for an acute attack of low back pain, which has no danger signs (known as 'Red Flags'), is

• painkillers

• continuing with normal activities

• manipulation if required remaining at work or returning as soon as possible

Bed rest is not recommended and makes matters worse and so should be avoided. Despite this the last survey in 1998(3) showed that GPs still recommended bed rest to one in four of the people who consult them about back pain. The longer someone is off work with back pain, the lower their chances of returning to work.(50% will return at six months but only 5% after one year)(8). Patients who return to normal activities feel healthier, take fewer pain killers, and are less distressed than those who limit their activities. Psychological and social factors ('Yellow Flags') are more important risk factors for developing chronic pain than physical symptoms and signs.(15)

Recent guidelines emphasise the need to monitor low back pain reports in the workplace.(8)

• stay at work if possible with any necessary modifications

• maintain contact if not able to remain at work

• the possibility of returning to work even if not entirely pain free

• the importance of rehabilitation

Back Care for Drivers

Driving can be a pain in the back. Confined in a fixed position for hours on end, stressed out by traffic and with the constant vibrations of wheels on the road, it's not surprising so many people get back ache after a long drive. Work, leisure and driving all contribute to wear and tear of your back over the years. Two out of three adults will experience severe back pain at some time in their lives and for half of us our backs are so badly damaged that we will suffer long term back pain. But there are things that we can all do to avoid damaging our backs or to reduce existing discomfort.

Are you sitting comfortably?

• Car seats usually feel comfortable when you first sit in them, but after a lengthy period of travelling significant discomfort and even back pain may be experienced.

Many car seats do not provide adequate support and can cause strain to be placed upon the bones, muscles, discs and ligaments of the back.

• Any lack of support is even more serious if you have a previous back injury or are suffering from muscular back strain. Good, supportive seating can help to reduce discomfort, and may also prevent postural back ache from occurring in the first place.

• Providing adequate support to the back whilst travelling is important for passengers as well as drivers. Most of the following points are equally useful for passengers.
<< Previous Page-----Next Page >>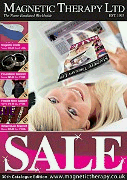 New to Magnetic Therapy? Claim your FREE information pack

Like This Site
Tell a Friend About it